The Times and Sunday times are publishing annually "The Best Companies To Work For". A lot of professionals consider it to be the most in-depth assessment of the workplaces within the UK.
In 2022 Leathwaite appeared on two of the key Best Companies Lists. The UK's top 30 London Small Companies to work for, and London's Top 16 Recruitment Companies to work for in the UK!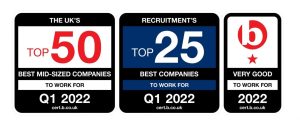 In Leathwaite we resonate with one clear purpose, which is 'To Create Meaningful Change Through Exceptional People'. This aim drives the internal culture of the business and helps to make Leathwaite a leader within its industry.
Our firm provides several initiatives to support the mental and physical well-being of its teams. From resilience-building sessions, online and in-person workouts, access to its Employee Assistance Programmes (EAPs), and medical insurance. Moreover, our company offers private dental healthcare and supports the "Cycle to work" scheme. And there are more benefits to come soon!

We created a Diversity and Inclusion council with representation from across the business to drive improvements in its approach to D&I. The firm actively supports the BAME and LGBTQ movements, having supported causes such as the 10,000 Black Interns Scheme and PRIDE. Leathwaite is also a Recruitment Industry Disability Initiative (RIDI) 100 Partner.

Leathwaite is an award-winning executive search and human capital specialist firm. We deliver an interconnected range of executive search, executive interim and data & insight services. Since establishing the business in 1999, our firm has developed key global client partnerships across a range of industry sectors. We also have a network of international offices in New York, Dallas, Los Angeles, Hong Kong and Zurich.